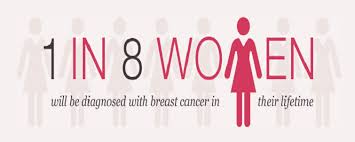 We Race Because…
One

in

eight

women in the U.S. will be diagnosed with breast cancer in her lifetime.
Because

every minute

, somewhere in the world, someone dies from breast cancer.
And because, breast cancer knows

no boundaries

- be it age, gender, socio-economic status or geographic location.
We continue to Race because at the current rate,

13 million

breast cancer deaths around the world will occur in the next 25 years.
But, when you participate and fundraise for the Race, we fight these statistics together. In 1980, the 5-year relative survival rate for women diagnosed with early stage breast cancer (cancer confined to the breast) was about 74 percent. Today, that number is 99 percent! Komen has played a critical role in every major advance in the fight against breast cancer - transforming how the world talks about and treats this disease and helping to turn millions of breast cancer patients into breast cancer survivors. This progress was made with your continued support and together we can reach our vision of a world without breast cancer.
Komen Colorado South supports that overall mission through community education and fundraising. 75% of money raised in our Affiliate services area stays in our community in the form of grants to non-profits that provide education, screening, and treatment support to the underinsured and uninsured. In the past 18 months, our grant funds have provided 24 women - in our community - the opportunity to live. 25% of money raised is added to the Komen Research Grants Fund.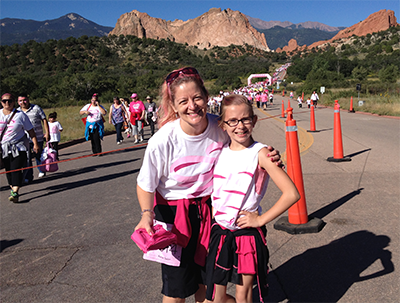 Emily & Anna Seder after the Race for the Cure
September 7, 2014, at Garden of the Gods Park
Emily's Story
This Sunday, I walked in my first Susan G. Komen Race for the Cure with my 10-year-old daughter Emily. What an amazing experience and a beautiful array of pink! My daughter and I painted our nails pink, dyed our hair pink, and sported pink angel wings. After the walk, our group went to breakfast together.
I wanted to share with you what happened next. On the drive home, my daughter asked me about breast cancer. "How do you find out about it? What happens next? What do you do?" I used this as an opportunity to educate her in a positive way. What a great bonding moment as mother/daughter! I am so happy my daughter learned about breast cancer at the Susan G Komen Race for the Cure. Like all of us, she will somehow be impacted by breast cancer in her life, through a loved one, a friend, a family member. She now knows that there is an amazing network of survivors, supporters and friends. And she doesn't need to be afraid. The walk is now an annual tradition in my family. Thank you! Anna Seder, PMP
Cynthia Quijas-Barker was diagnosed with Ductal Carcinoma breast cancer on July 9. She knew exactly what that meant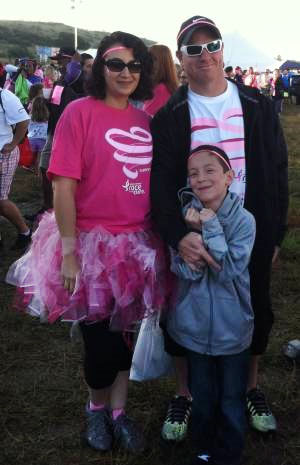 Breast cancer survivor Cynthia Quijas-Barker
2014 Race for the Cure with her husband
Chris Barker and son Dylan Barker.
Courtesy of Cynthia Quijas-Barker
For over a year, she has served as the Women's Wellness Connection (WWC) RN coordinator at the Women's Health Center, 225 S. Union Boulevard. WWC is part of Peak Vista Community Health Centers. Having worked with breast cancer patients and survivors, Cynthia knew it could be a long road to recovery and she prepared herself.
"Due to my age and the size of the cancer lesions, I opted for a double mastectomy," Cynthia said. "The final pathology on my double mastectomy revealed areas of micro-invasive cancer."
Her hormone receptor tests were negative, which made her cancer a triple-negative invasive carcinoma, meaning it was more aggressive and difficult to treat than originally thought.
"Initially, my medical team thought surgery would be the cure for me, so I was disappointed to learn this was not the case," she said.
Cynthia, 37, grew up in a military family and settled in Colorado when her father retired from the Army. After living in Fort Collins for 18 years with her husband Chris Barker and son Dylan, she moved back to Colorado Springs to be closer to family. She has received kindness and support from her family, friends and coworkers throughout her cancer journey and said working at Peak Vista during has been a blessing.
"My experience with breast cancer has been one of optimism," Cynthia said. "My medical team has been wonderful. They have, at every step, given me options and allowed me the time to make decisions. I have never felt like just a name on a chart."
Cynthia started chemotherapy on September 29, and is scheduled to have four treatments over the next 12 weeks. The last one will be two weeks before Christmas. Then, she can move forward with reconstruction and a life free from cancer.
Cynthia's knowledge about breast cancer was beneficial and helped lead to early detection. Even though her cancer is invasive, it was caught at an early stage and is treatable.
"As the coordinator for the WWC Program, it's my responsibility to case manage patients with abnormal mammogram and Pap smear results," she said. "I felt it was my responsibility to get checked. How can I expect my patients to follow through for their health if I'm not? My knowledge about treatments and medications means I know my enemy and am prepared to fight."
Along with the clinic providers and nurses with whom she works, Cynthia is also a part of the Pikes Peak Breast Health Coalition, which includes women from Penrose-St. Francis Health Care Services, American Cancer Society, and the Susan G. Komen Foundation.
Cynthia has been the team captain for Peak Vista's Race for the Cure team for two years and helped raise $1,700 this year. She is also involved with Peak Vista's grant program for the Susan G. Komen Foundation and helps to issue vouchers and manage funds. Getting involved has always been important to her, but even more so now that she has walked the cancer journey herself.
"I want to stress the importance of knowing your body," she said. "Listen to that inner voice because it is your responsibility to act in your best interest. Be your own advocate, speak up and ask questions."
Click here to read full article in The Gazette