A Tribute to Breast Cancer Survivors
From the moment a person's breast cancer diagnosis is confirmed, she or he is considered a survivor. Race Day is an opportunity for us to recognize our survivors for their bravery, and to show them how much they are loved, cherished, and respected.
Breast Cancer Survivor Recognition
PINK T-SHIRT - Registered breast cancer survivors receive a pink T-shirt with their registration packets.
BACK SIGNS - We would like to invite all participants to recognize those special people in their lives who have been touched by breast cancer. "In Honor of" signs will be available for all Race participants to wear on their backs. They will be available in the Registration Tent and the Pink Cafe.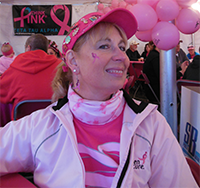 The Pink Cafe
SURVIVORS ONLY PLEASE - Breast cancer survivors and one (1) guest only may come to the Pink Cafe early (6 a.m.) and have a bite to eat before the Parade of Pink. This event is hosted by our local sponsors.
Other registered participants are welcome to enjoy the Refreshment tent in the event area hosted by our generous sponsor Meadow Gold.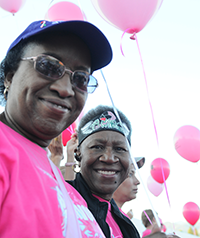 The Parade of Pink
The Parade of Pink is an option for survivors. This is a wonderful celebration of sisterhood and we encourage you to participate! Survivors should gather near the stage at 7 a.m.
Tribute
Please plan to honor your own special survivor in the Tribute Lane at our 21st Race for the Cure. This will be a lasting tribute to all Breast Cancer Patients and Survivors, not only in Colorado South but around the world.