Race and Parking Map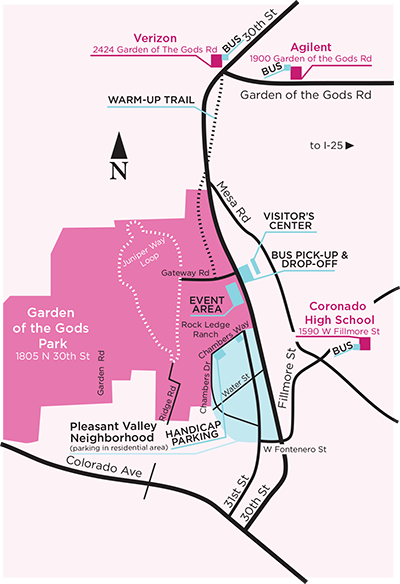 The map shows the event location and parking areas. Click the map to the right to download/print the map. A map of the actual certified course is also shown below.
Parking Information
Bus fare donations are greatly appreciated at the time of your bus ride. There will be 4 parking locations this year:
Verizon - located at Garden of the Gods Road/30th Street. Participants will be bused or they can warm up by walking the 1.5 mile paved trail on the east side of 30th Street. Parking lot opens at 5:45 a.m.
Agilent Technologies - Located at 1900 Garden of the Gods Road. Participants will be bused. Parking lot opens at 5:45 a.m.
Coronado High School - Located at Fillmore and Mesa Rd. Participants will be bused. Parking lot opens at 5:45 a.m.
Pleasant Valley neighborhood - located west of 30th Street just south of Rock Ledge Ranch. Many thanks to the Pleasant Valley home owners for allowing us to park in their neighborhood which is within walking distance of all Race activities. PLEASE be courteous and thank them! Parking opens at 5:45 a.m.
Handicapped Parking for those with handicap stickers will be on Chambers Way between 31st Street and Chambers Drive. Golf cart transportation from the corner of 31st Street and Chambers Way to the Race Expo area will be provided.
Volunteer Parking is available on 31st Street in the Pleasant Valley Neighborhood. Volunteer parking opens at 4:00 a.m.
For the safety of all participants we discourage strollers. Radio headsets, roller blades/inline skates, and bicycles are not allowed on the Race course. If you must bring a stroller, please park in the Pleasant Valley Neighborhood and walk to the Race area. There is not room for strollers on the buses at other parking locations. Strollers also need to remain at the back of the pack for the walk or run. Be careful not to run into other participants with your stroller.
No pets will be allowed on the race course on Race Day. If you have pets, check out our PETacular Pooches In Pink event held Saturday afternoon the day before the Race.
Certified Race Course Map
Racecourse Certification CO07038DB